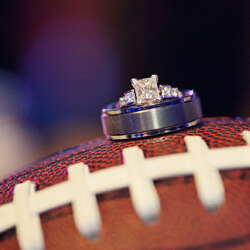 Whether your mate is a professional player or a fantasy player, the season is here!  Like millions of women around the world, I am bracing myself.  I enjoy the excitement that my husband displays as he gets ready for the upcoming football season. However, with the season comes the absence of romantic evenings replaced by Sunday, Monday, and Thursday night football. I have made up my mind that this season will be enjoyed by all.
The old saying goes, "if you can't beat them, join them." This year I will be joining my Hun in the joy that America's other favorite past time brings.
1. Talk the talk. In order to walk the walk, you must talk the talk. I'm not suggesting binging on NFL (National Football League) 101, I'm simply speaking learning enough terms to help you at least understand what is going on on the football field. For example, what position does Tom Brady play? If you answered quarterback, then you are a natural. Just learn a few more terms and the season will be great.
2. Pick a team.  There are 32 teams in the NFL, pick one.  Over the years, I have selected my favorite team based on their team colors. Most recently, I have selected my favorite team on how many cute players I think they have.  Whatever reason you use to pick a team, just pick one and cheer them on. I even endorse switching teams mid season, which I have done many times.
3. Watch what goes on. You can learn a lot about football by watching the various shows that come on. I particularly pay attention to the fashion of football players. As the commentators comment on the players skills on the field, I critique the players fashion skills off the field.
4.  Host a party.  Food, fellowship and football, what more could you need?  Create an informal party environment with your friends by asking them to bring a dish.  You could be responsible for the main dish and your friends could bring their favorite football sides.  Takes the stress off of you and allows everyone to participate.